Your support this past fiscal year was instrumental in United Way of Northern Nevada and the Sierra (UWNNS) delivering over $3.4 million of impact in our community. For every dollar you invested, we turned it into $3.20 worth of impact. These investments were critical as we continued to respond to the impacts of COVID-19 while also supporting our youngest learners in gaining skills to be successful in school! Thank you for partnering with us to change lives in northern Nevada. 
Impacts made possible because of donors like YOU: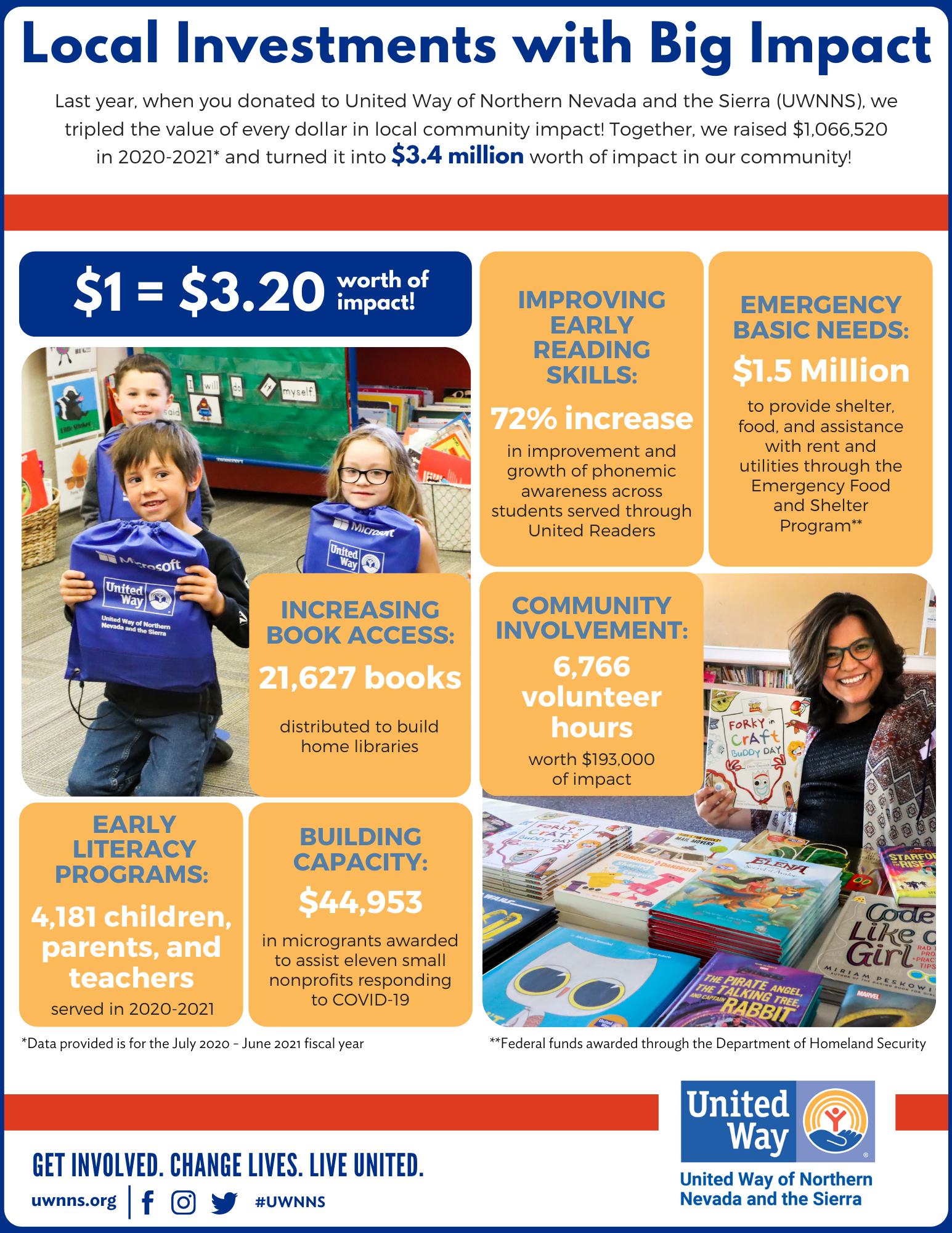 We launched our United Readers program while navigating the pandemic. 72% of students receiving support from our mentors showed an increase in phonemic awareness skills and are on the pathway to reading at grade level. 
We distributed over 15,000 books, valued at over $130,000, to increase access to age-appropriate books to build home libraries and help prevent the summer slide.
We managed over $1.5 million in federal emergency assistance funds to provide critical support for basic needs like rental assistance, food, utilities assistance, and emergency shelter.
Over the past year, I had the privilege of seeing our investments in action, including our new United Readers program. A principal from one of our United Readers schools shared the impact of the program and how it changed the story for their students:
"[Students] have all skyrocketed in their self-esteem and confidence, and I believe that is primarily because of the work you are doing with them. Their teachers are so thankful. The phonics work you are doing is also transferring to their classroom as teachers are noticing improvements in their reading abilities. Thank you again, and keep up the great work!"
   - Alan Holmes, Principal at Peavine Elementary
Together, let's build on these successes and continue to invest in our youngest learners, and help stabilize families. They need us now more than ever, and we look forward to working with you to create a thriving northern Nevada.  
With gratitude,
Michael Brazier
CEO and President, UWNNS